Medusa, mother of Pegasus. Detailed ring inspired by the character from Greek mythology Medusa. A small female bust, whose hair is made up of cobras, snakes that emerged from the desert sands when her blood dripped from her neck, covering them while Perseus was carrying her head, here on this ring, settled in the wings of the winged horse Pegasus, her son.
​

Elegant and unisex modern design which shape allows depending on the properties of the chosen material, which will determine if it will adjust slightly or not, to enlarge or reduce it also, to be used in different fingers.
Powered by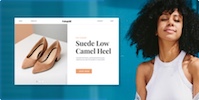 Create your own unique website with customizable templates.